Full Latin-English Glossary
We have created a glossary of all word forms occurring in Pugio Bruti. This list gives the English equivalent of each Latin word form in Pugio Bruti, if you need it while reading the book. So for instance, if you look up pugione, you will find "with the dagger". You can preview it in the curriculum further down.

Reading and listening comprehension exercises
Every module has many quizzes with multiple choice questions on the story and vocabulary. Before answering the questions, you are asked to either read a chapter from the book, or listen to an audiofile. The questions and answers are all in Latin, to give you as much practice as possible.

Image quizzes and crosswords
Sprinkled throughout the course you will find quizzes based on the illustrations in Pugio Bruti, you will also find a few word puzzles or crosswords to test your vocabulary.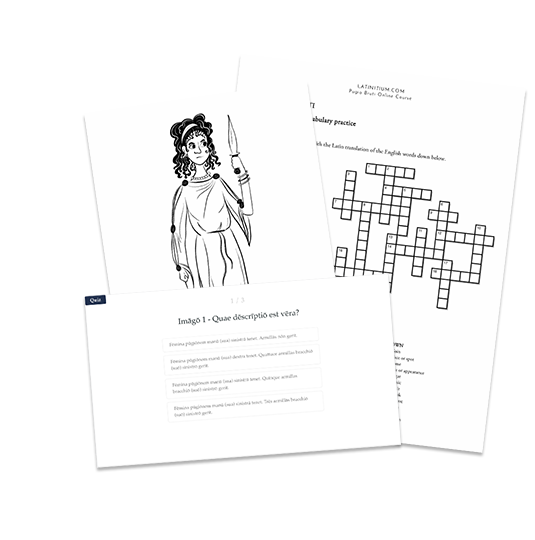 History lessons
Every module contains a history lesson in English that treat different aspects on Roman history and culture that relate to Pugio Bruti, e.g. wine, Augustus, and beards.
Literary Latin
Every module has a bonus lesson for a taste of "real" Rome. In this you will encounter Latin from the Roman authors themselves in the form of the original Latin text, recording of it, and an English translation.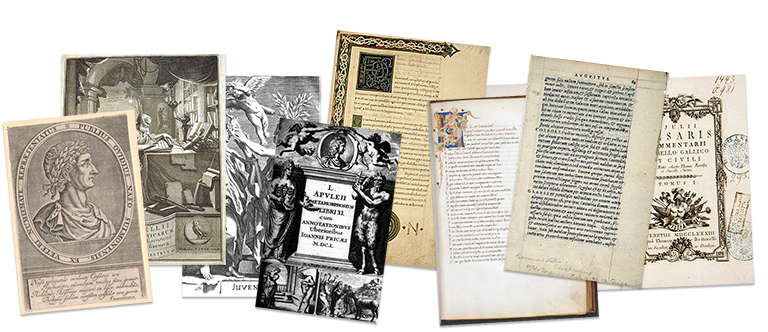 Supplemental teacher material
The book Pugio Bruti has been adopted by teachers all over the world. We have therefore made sure to provide the Online Course with teaching materials that can be used in class, making preparations and teaching easier. This includes printable quizzes, images, crosswords, dialogues, classroom exercises suggestions as well as the entire commentary for the book in a handy PDF. Take a look at the end of the Class curriculum down below for further details.
Extra reading material: dialogues
We have written 10 dialogues for this course. The dialogues all take place within the story of Pugio Bruti and provides you with more story and above all: more Latin to read.
Check out the full Class curriculum further down below for more details and some previews.